Overview: 
Significant recent planning efforts have laid the groundwork for Downtown Plattsburgh revitalization and economic development. These plans emphasized increased walkability and re-urbanization of the Historic Core, and proposed projects and initiatives in various stages of planning, predevelopment, and completion.
Community Driven Process:

Building upon on a long tradition of local planning, including recent engagement and priorities established under the Local Waterfront Revitalization Program, a Local Planning Committee (LPC) – comprised of residents, civic leaders, and business owners – led the DRI planning process and created a unified vision for the role that DRI investment should play in building Plattsburgh's future. To fuel this vision, the LPC guided extensive community engagement, fueled by nine LPC meetings and calls, and four Public Engagement Events.

At the end of the planning process, the LPC created and submitted a Strategic Investment Plan to the State based on all meetings, input, and best practices. This plan proposed projects  to advance downtown revitalization and served as the basis for the projects that were awarded funding from the State. Any additional projects that were not awarded funding but exist within the Strategic Investment Plan will seek to leverage other funding initiatives from public or private sources, and it is anticipated that other state funding initiatives will give priority consideration to projects and proposals in the Strategic Investment Plan.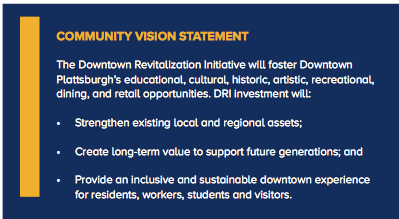 Public Planning & Engagement